STACYC x MX SPORTS x LORETTA LYNN'S RANCH PARTNERSHIP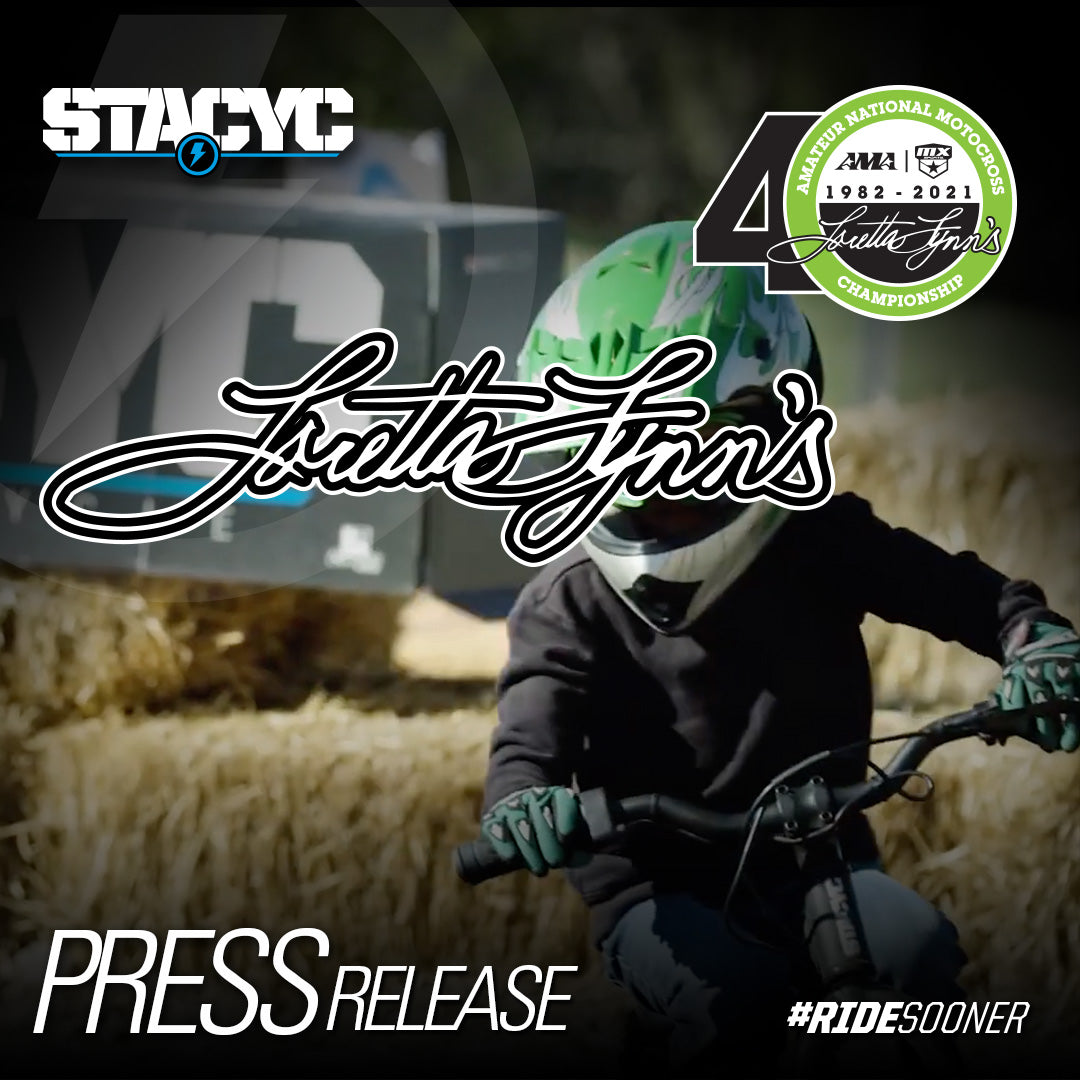 FOR IMMEDIATE RELEASE: July 30th, 2021
Matt Schumann
STACYC Inc.
mschumann@stacyc.com
STACYC x MX SPORTS x LORETTA LYNN'S RANCH PARTNERSHIP
__________________________
STACYC INC. BREAKS GROUND AT LORETTA LYNN'S RANCH, IN HONOR OF MX SPORTS & LORETTA LYNN PARTNERSHIP & 40TH ANNIVERSARY.
STACYC's mission is to create and deliver products and experiences that help kids develop sooner and empower them to define their own ride.
STACYC Inc.is excited to announce it's partnership with MX Sports and the Loretta Lynn's Ranch to deliver access to a one of a kind pump-track at the ranch for the 40th anniversary of the Loretta Lynn's amateur national championship.This one of a kind STACYC Track is every Little Rippers dream come true! Check it out at its grand opening during the Motocross Championship, this weekend!
New Opportunities
STACYC breaks ground in rural Tennessee to continue sharing the love of riding with Little Rippers across the country! The memories and connections families make with MX Sports & Loretta Lynn's Ranch year after year is something STACYC wanted to be a part of for the long run!
"Keeping our brand promise to share the love of riding is a fundamental driver for us here at STACYC...We are excited to be here and create new opportunities and first time experiences for the Little Rippers at this event"
- Ryan Ragland, STACYC CEO
The partnership with MX Sports & Loretta Lynn's Ranch allows STACYC to continue pushing forward with providing opportunities to kids at any stage of two-wheels. With every twist in turn you can think of, this track is every Little Ripper dream! Be sure to check out this rad addition to the Lower Campground, at your next Loretta Lynn's trip!
"STACYC has been an incredible partner for MX Sports. From Camp Loretta;s to GNCC Racing, the team at STACYC delivers opportunities for kids to ride across the country. This permanent STACYC track at Loretta Lynn's Ranch is another example of STACYC's commitment to the Little Rippers"
-Tim Cotter, MX SPORTS
Loretta Lynn's Ranch
Nestled in the hill of rural Tennessee, Loretta Lynn's Ranch is the ultimate family destination. Billed as one of Tennessee's top tourist attractions and one of the largest campgrounds in the Middle Tennessee Area.
Sit back, relax, and enjoy live music during our weekend campfire shows, explore nature on our hiking trails, get a tan by the pool, sink your toes in the sand playing volleyball, reel in the big fish, or get wet tubing or kayaking down beautiful Hurricane Creek.
Looking for the full Ranch experience? Be sure to visit during one of our many special events! Ranging from Chuckwagon Races to dirt bike and Jeep trail rides. Get the family ready to make a memory that will last a lifetime. Here at Loretta Lynn's Ranch, everyone is family!
LEARN MORE
STACYC™ is an electric balance bike that bridges the gap between push bikes and bicycles/motorcycles. We provide a lightweight, non-intimidating riding experience for young children. Our stable bike geometry, low seat height and ergonomic features allow for easy push and glide functions, as well as exceptional power mode fun. Break the normality and ditch the screen; engage the kids with outdoor riding and play.
STACYC, which is a wholly-owned subsidiary of Harley-Davidson Motor-Company is a fun, upbeat kids' brand that is passionate about "Sharing the Love of Riding". STACYC is focused on New Rider Creation within the Powersports, Motorcycle, and Bicycle channels. As a young, growing company STACYC is "first to market", creating a new category within the motorsport and bicycle industries.