STACYC™ INC. PARTNERS WITH MAMMOTH MOUNTAIN & BIG BEAR MOUNTAIN RESORT TO SHARE THE LOVE OF RIDING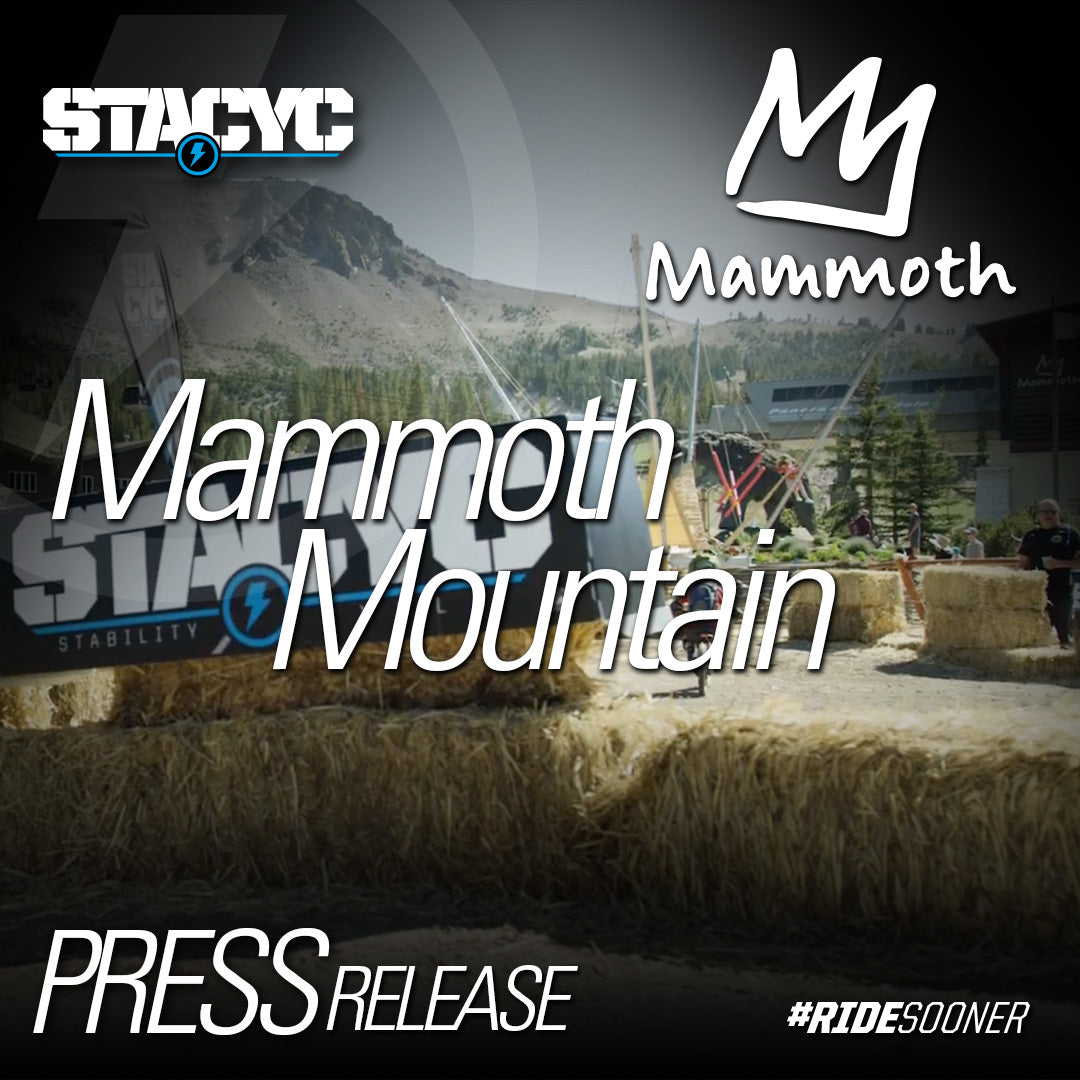 FOR IMMEDIATE RELEASE:
July 23rd, 2021 Matt Schumann, VP of Marketing
STACYC Inc. mschumann@stacyc.com
STACYC™ INC. PARTNERS WITH MAMMOTH MOUNTAIN & BIG BEAR MOUNTAIN RESORT TO SHARE THE LOVE OF RIDING
STACYC's Mission is to create and deliver products and experiences that help kids develop sooner and empower them to define their own ride.
Ft. Worth, Texas: STACYC™ Inc., today announced publicly, their partnership with Mammoth Mountain Ski Area and Big Bear Mountain Resort. This partnership will not just bring a new summer activity to the mountain this biking season but will move STACYC™ closer to their primary goal of "Sharing the Love of Riding".
"STACYC™ is an electric balance bike that bridges the gap between push bikes and bicycles. They were designed for confidence to provide a non-intimidating riding experience for young children. They're lightweight, ergonomic, have a low seat height, as well as 3 powered mode options for non-stop fun!" says Ryan Ragland, CEO & Founder at STACYC™ Inc. "What better way to break the normality and ditch the screen?"
Shared Value of Family
As Southern California's home for year-round alpine good times, Big Bear Mountain Resort offers the region's best mountain biking, hiking, and several base area activities that are perfect for little explorers, including a 30-foot climbing wall, Euro Bungee trampoline, zip line, and the all-new "Kids Full Throttle", featuring STACYC™ electric balance bikes.
Located at Main Lodge, the Mammoth Mountain Adventure Center is your portal to the best family fun and outdoor activities in the region. Featuring a ropes course, zip-line, climbing wall, bungee jump, and now a purpose-built STACYC pump track. The Adventure Center is a one-stop shop for massive amounts of family fun. Mammoth Mountain is also home to the premier bike park in North America offering over 80 miles of single tracks, spread across the entirety of the mountain.
At STACYC™, the memories and connections are what matter. Now, those memories and connections can be made at Mammoth Mountain's Adventure Center and Big Bear Mountain Resort's Summit Bike Park.
Learn More
At STACYC™ The key to delivering on our promise, accelerated growth, is confidence. Our approach to design is holistic and centered around the riders' needs. Every aspect of our design is to make learning to ride easier, intuitive, and more fun for kids at each stage of their development.
STACYC™, which is a wholly owned subsidiary of Harley-Davidson Motor-Company is a fun, upbeat kids' brand that is passionate about "Sharing the Love of Riding". STACYC™ is focused on New Rider Creation within the Powersport, Motorcycle, and Bicycle Industries. As a young, growing company STACYC™ is proud to deliver a "first to market" category creator. For more information go to www.stacyc.com or follow us @ridestacyc on Instagram and Facebook.