GASGAS North America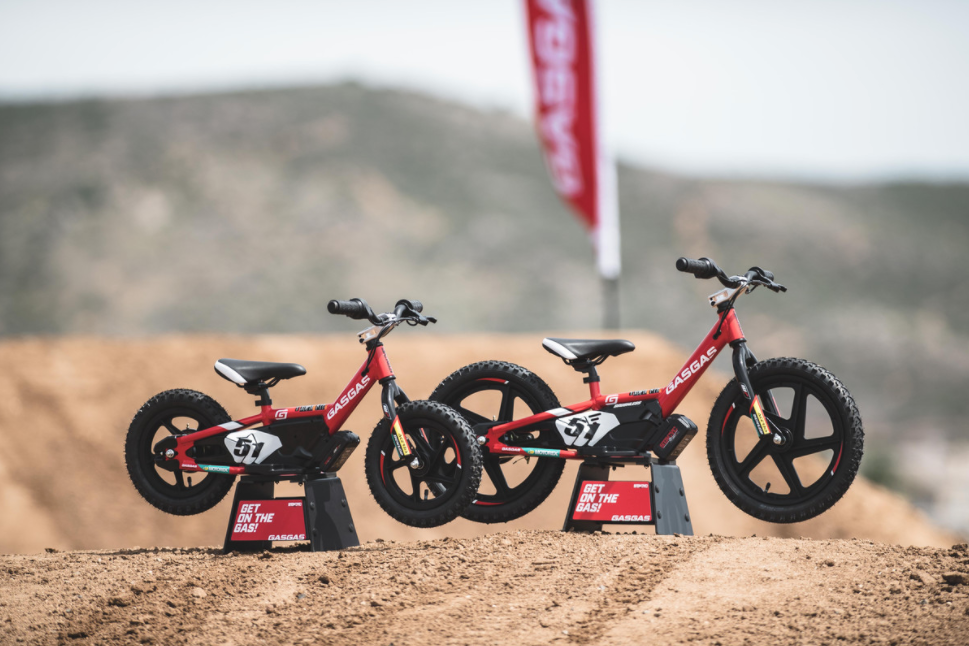 THE GASGAS FACTORY REPLICA STACYC 12EDRIVE AND 16EDRIVE BALANCE BIKES BRING TWO-WHEELED FUN TO THE YOUNGEST OF RIPPERS
GASGAS North America, Inc. is super excited to announce the arrival of the 2021 GASGAS FACTORY REPLICA STACYC 12eDRIVE and 16eDRIVE balance bikes in the U.S. and Canada, joining our electrically-powered GASGAS MC-E 5 to bring a new level of two-wheeled fun to young riders everywhere.
GASGAS FACTORY REPLICA STACYC 12eDRIVE and 16eDRIVE balance bikes join the electrically-powered family for 2021
The 12eDRIVE features 12" wheels for first-timers, while the 16eDRIVE satisfies the more experienced young rider
Both bikes feature special Troy Lee Designs/Red Bull/GASGAS Factory Racing number plate decals
These electrified co-branded balance bikes will be sold exclusively through authorized GASGAS dealers, supporting the brand's philosophy that there should be a bike for everyone by providing an entry level two-wheeler that builds confidence and ability, not to mention hours of throttle-twisting fun!

The GASGAS FACTORY REPLICA STACYC 12eDRIVE is the perfect choice for little rippers with little or no experience on a balance bike. With 12" wheels and a low 13" seat height, it allows riders to learn to push, balance or coast with confidence before graduating to the 3-level powered mode. Featuring the latest high-output brushless motor, the GASGAS FACTORY REPLICA STACYC 16eDRIVE is the choice for slightly taller riders or those with more experience, featuring more power, larger 16" wheels and increased 17" seat height.

Both models offer quick charging and roughly 30-60 minutes of run time for an exceptional amount of fun, along with thousands of hours of hand-eye coordination, balance and outdoor exercise. Giving young shredders the opportunity to rep their favorite Troy Lee Designs/Red Bull/GASGAS Factory Racing team rider, a selection of number plate decals is included with each bike. Fans of the eccentric 450SX rider Justin Barcia can proudly display the #51 on their bike, while those who prefer a more extreme approach can run multi-time offroad champion Taddy Blazusiak's iconic #111. We've also included a #1 for all those aspiring future champs.

STACYC balance bikes offer a unique opportunity to share the sport of motorcycling with the young riders of tomorrow. Once they've mastered balance and throttle control and are ready for a larger platform, the GASGAS MC-E 5, with its adjustable height and 6 selectable power modes, is the perfect next step on their riding journey.

GASGAS FACTORY REPLICA STACYC 12eDRIVE and 16eDRIVE balance bikes will be arriving in North American dealers from May 2021 onwards and will be available globally this summer. For more information, check out the official product page HERE.