AIM Expo Las Vegas - 2018 Recap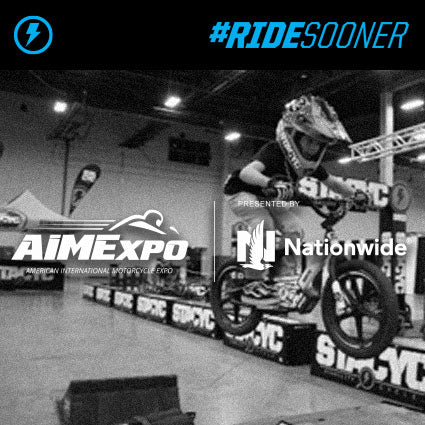 The ethos of the STACYC brand is to Share the Love of Riding. Our goals are simple, Create New Riders and help the kiddos Engage in riding more often so that they Develop unmatched riding skills at a young age! We are doing our best to bring more youth riders into your dealerships and the motorcycle industry as a whole. Your support in STACYC is a solid way to secure your future motorcycle sales. This should be very important to you as a powersports dealership. Every New STACYC Rider you Create is a customer you have a chance in keeping for the next 50 years!
We launched our Rider Creation Program at the AIM Expo 2017, in Columbus, OH. We went to the show with just 4 pilot dealers testing the product in their stores. We were amazed at how well our mission aligned with the needs of the industry! We walked away from AIM in 2017 with more than 30 new dealers excited about Creating the Next Generation of Riders! Over the last 12 months, we have continued to build our dealer network and some of the industries best Powersports Dealerships have joined us in our mission. Over 160 dealers nationally have come on in just one short year! We are well on our way to meet our goal of Creating 25,000 New Riders by 2020!
We were excited to come back to AIM in 2018 with a larger footprint and an area to allow the kiddos to ride. Kids that attended the show were able to get their first taste of the feeling we all know and love as motorcyclists! Again the dealers that made their way by the booth were in awe, over 50 new dealers signed up at the show!
If you didn't make it by the booth to get the lowdown on how your dealership can Create the Next Generation of Riders, reach out to us here and we can help you get the wheels turning at your store as well!